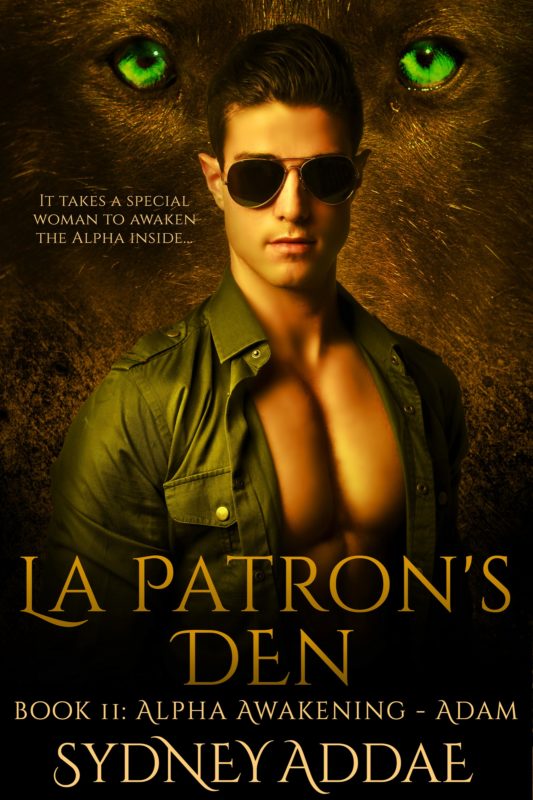 La Patron's Den is a series about Silas and Jas-mine Knight's four pups: Jackie, Adam, Renee and David. Each book tells their stories as young adults embarking on new chapters of their lives. This is book two, Adam's story.
Alpha Awakening - Adam Adam is fulfilling his dream to play ball and is excited to be on his own, away from the Compound. He never imagined he'd meet Bella, his mate, a Breeder. Bella is a member of a religious group and cannot have any interaction with outsiders. Adam's wolf won't accept excuses and pushes Adam to take their mate. Bella's determined to remain true to her faith. Can these two find a compromise before a corrupt group destroys the Compound? Will Bella take a chance on a reformed playboy?
Order Now!
About the Book
When all your life, all you want to do is play sports and bed women, life is simple, easy. Being first-born son of the top Alpha in the Nation give you a solid foundation on pack life. Being the son of Jasmine Knight teaches you to be humble of all you've gained from being the son of Silas Knight.
When you're perceived as an easy-going, all-around likable guy, people assume you'll be that type of Alpha. They assume you'll let infractions slide. Or that you'll turn the other cheek. They're wrong.
When you meet the one person in the world who makes you want to step into your pre-destined role of leadership before you're ready, you've met your mate. That meeting changes your life, sends you spiraling in ways you never imagined. But it's a good thing.
-Adam Knight
Other Books in "La Patron's Den"
Disclosure of Material Connection: Some of the links in the page above are "affiliate links." This means if you click on the link and purchase the item, I will receive an affiliate commission. I am disclosing this in accordance with the Federal Trade Commission's
16 CFR, Part 255
: "Guides Concerning the Use of Endorsements and Testimonials in Advertising."